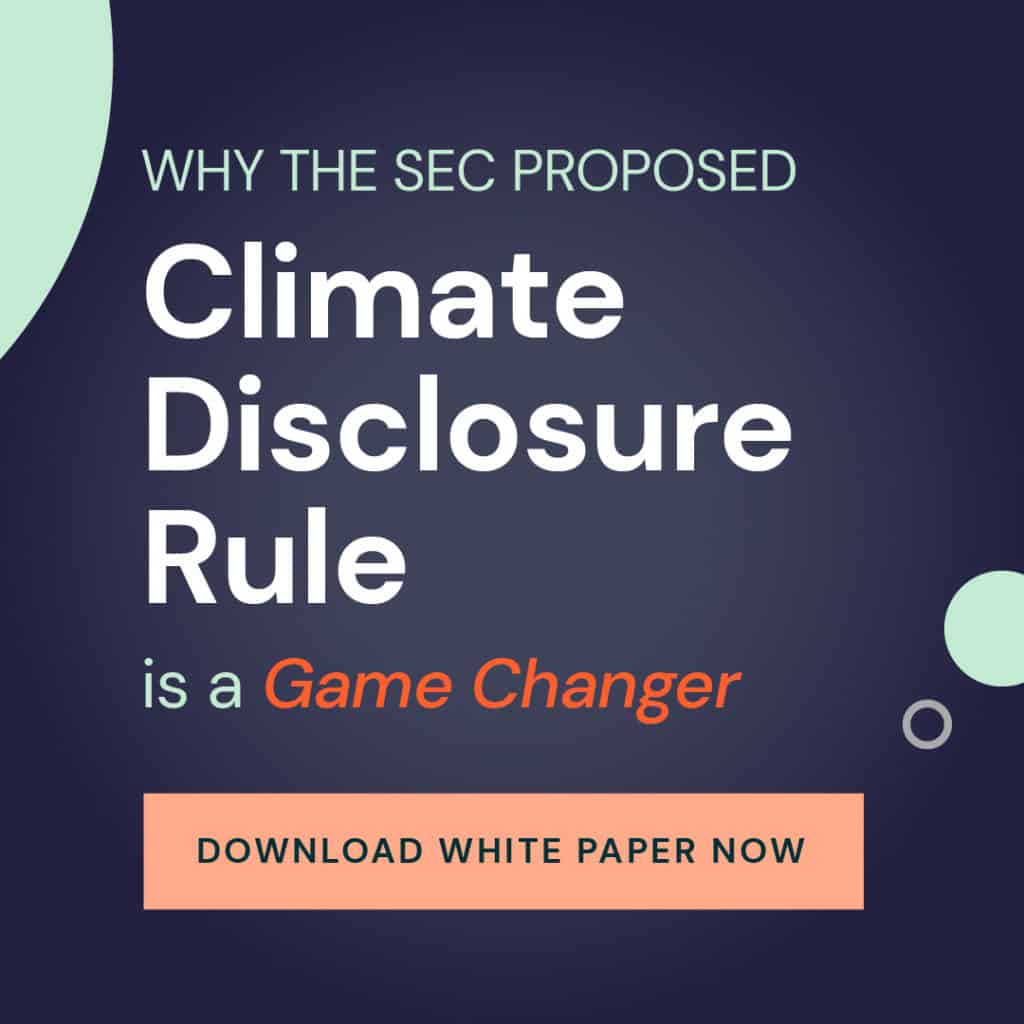 On March 21, the US Securities and Exchange Commission (SEC) ushered in a new era of climate risk disclosure for publicly-traded companies, which Manifest Climate explores in its latest white paper.
In a 3-1 vote, the agency's commissioners approved a 510-page proposed rule that would require companies listed on any US stock exchange to incorporate climate-related information into their periodic SEC filings — including in their annual financial reports.
The rule is modeled in part on the recommendations of the Task Force on Climate-related Financial Disclosures (TCFD), the only climate disclosure framework embraced by 85% of the global economy.
In short, the rule tells companies to disclose their:
Climate-related risks and the likely material impacts on their businesses, strategies, and future expectations;
Climate-related governance and risk management processes;
Greenhouse gas (GHG) emissions;
Certain climate metrics and related information in their audited financial statements, and
Information on their climate-related targets, goals, and any transitions plans
In a statement supporting the proposal, Gary Gensler, Chair of the SEC, said: "If adopted, it would provide investors with consistent, comparable, decision-useful information for making their investment decisions and would provide consistent and clear requirement obligations for issuers … Companies and investors alike would benefit from the clear rules of the road proposed in this release."
The public comment period for the rule will end no earlier than May 20, 2022. If enacted, the rule would bring unprecedented clarity to the climate impacts that companies are facing and give climate-focused investors the information they need to effectively engage firms on their business practices. If adopted by December 2022, the SEC plans to phase in the planned disclosures, starting with large companies, from 2024 onward.
Emissions disclosures
A cornerstone of the proposed rule is the requirement for all companies to disclose their direct GHG emissions — known as Scope 1 — and indirect GHG emissions from purchased electricity and other kinds of energy — known as Scope 2. These disclosures must be expressed in absolute terms — not including emissions offsets — and in terms of intensity, meaning emissions "per unit of economic value or production."
Significantly, alongside their Scope 1 and 2 emissions disclosures, certain large companies would have to include an attestation report from a third-party service provider that speaks to their reliability. These companies would have to provide limited assurance for their Scope 1 and 2 disclosures from 2024-2025, if the rule is enacted in December 2022, and reasonable assurance each year after. Smaller reporting companies would have to start disclosing Scope 1 and 2 emissions from 2026 onward, though they would be exempt from the attestation report requirement.
Scope 3 emissions — the indirect emissions from upstream and/or downstream a company's value chain — would have to be reported under certain circumstances, too. Specifically, a company would have to disclose Scope 3 emissions if they're deemed material or if it has set a GHG emissions target that includes Scope 3.
Referring to its own definition of "material", one affirmed by US Supreme Court precedent, the SEC says Scope 3 emissions disclosures are required if "there is a substantial likelihood that a reasonable investor would consider them important when making an investment or voting decision." This definition would likely compel fossil fuel companies to report Scope 3 since the vast majority of their emissions are caused by the use of their hydrocarbon products.
Recognizing that calculating Scope 3 emissions is challenging given the difficulties around reliable data collection, the SEC has proposed a "safe harbor" for their disclosure. This means companies wouldn't be sued over these figures under federal securities law.
Overall, the breadth and depth of the SEC's proposed emissions disclosures is impressive and should greatly increase the public's understanding of companies' contributions to climate change. The requirements on attestation reports and assurance are also potential game-changers, as they should bolster disclosure users' confidence in the accuracy of emissions data and help with the development of robust, forward-looking climate analyses.
The TCFD's influence
The SEC's proposed rule aligns closely with the most recent recommendations of the TCFD when it comes to disclosing Scope 1, 2, and 3 emissions. But the influence of the framework extends to many of the rule's other provisions, too.
Most of the disclosure requirements reflect the TCFD's focus on climate governance, strategy, and risk management. For example, the SEC proposed companies identify any board members or board committees charged with overseeing climate-related risks and whether any board members have expertise in these risks. This is in line with the TCFD's own governance recommendations.
Furthermore, the proposed rule tells companies to report climate-related risks that are likely to have material impacts on their businesses over the short, medium, and long term. This is similar to one of the TCFD's strategy disclosure recommendations.
The proposed rule's close affinity with the TCFD suggests that companies already well-versed in the framework will have a headstart when it comes to complying with the SEC's requirements if they're enacted in their current form.
Transition plans under scrutiny
The proposed rule also seeks to strengthen the credibility, effectiveness, and monitoring of companies' climate transition plans. Scores of businesses have announced strategies to cut their GHG emissions and change their practices to be in line with broader national and global climate goals. However, recent analyses of these plans have found them to be weak and lacking integrity.
To address this, the proposed rule would require companies that have adopted transition plans to describe them in their regular filings, along with any relevant metrics and targets for managing physical and transition risks. It would also require these companies to update their transition plans each fiscal year by describing the actions taken to help achieve their goals.
Through these provisions, the SEC is looking to instill rigor into companies' transition plans and to stop them from announcing sweeping climate strategies that aren't backed up by meaningful action. The requirement to provide annual updates should also help investors understand the effectiveness of companies' climate strategies, as well as their associated risks and costs.
Act Now
The SEC's proposed rule is ambitious. If enacted, it would give rise to consistent, comparable climate disclosures that would greatly enhance public understanding of the climate risks that US companies are facing. The disclosures would also highlight how US companies are contributing to climate change through their Scope 1, 2 and 3 emissions.
Though several procedural hurdles must be cleared before the proposal can be finalized, the SEC's aims are profoundly clear. US-listed companies should get to work today on understanding the proposed rule's implications and implementing the necessary processes to comply with its requirements. The time for delay or a wait-and-see posture is over.
How Manifest Climate can help
Our climate intelligence SaaS platform combines cutting-edge technology, an industry-leading database of climate disclosures, and ongoing support from climate experts to deliver best-in-class climate guidance at scale. We help companies of all sizes identify and implement what's needed to fulfill the SEC's incoming climate disclosure requirements.
Our technology and world leading experts support teams to get started by identifying and implementing critical actions to achieve disclosure objectives, and beyond.
Our platform, which combines climate expertise with AI, can help companies understand their reporting strengths and weaknesses as well as how they stack up against their peers.
We help companies understand the extent of their alignment with TCFD or other climate reporting standards/regulations, providing transparency into a company's climate risks/impacts and making the reporting process more efficient.
Our world-leading climate disclosure data shows that when companies understand their climate risks and impacts, they are better positioned to put in place a plan to more effectively manage and ultimately reduce emissions.
Get in touch with us now to learn more.