The ongoing global transition to a lower-carbon, resilient economy requires significant and, in some cases, disruptive changes across economic sectors and industries. These changes present significant risks for those slow to adapt, but also massive opportunities for forward-thinking organizations. What are risks and opportunities related to the transition and how might they impact companies in Canada and the world?
What are "transition risks and opportunities"?
Leading frameworks for thinking about climate issues, such as the Task Force on Climate-related Financial Disclosures (TCFD), break up climate impacts into two main buckets. Physical impacts result from increasingly frequent and intense acute events, such as wildfires and flooding, and the more chronic incremental changes, such as rising temperatures or changing water availability. Transition impacts refer to policy, technology and market developments that seek to mitigate the phenomenon of climate change by reducing greenhouse gas (GHG) emissions or increasing energy efficiency.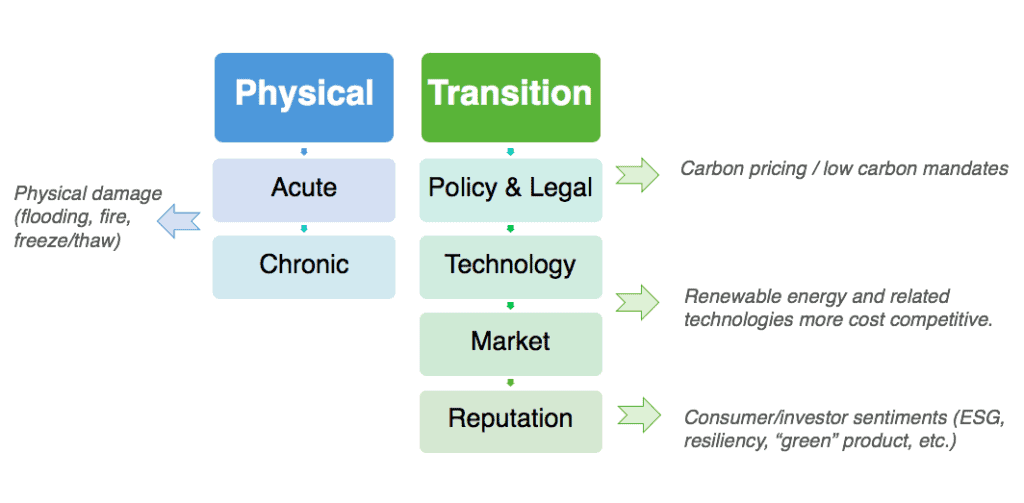 These impacts can pose both risks and opportunities to organizations. Risks associated with increased costs or decreased competitiveness might be significant. A carbon pricing policy, for instance, could increase compliance costs for heavy emitters but improve the business case for energy efficiency measures. Technological and market developments that lower the price of renewable electricity could make higher-emitting fuel sources less competitive while creating significant opportunities for renewable sources or energy storage technology.
Transition impacts can open up opportunities by way of operational efficiencies, new product and market streams or improved public image. Building owners and managers who adopt energy efficient technologies could reduce operational costs. Power utility companies could move beyond their traditional role as an electricity provider and expand their service offerings to smart grid technologies and support services. A large energy company may diversify its business and enhance its reputation by investing in an offshore wind farm or purchasing carbon offsets.
What Does the Transition Mean for Canada?
As home to many resource-heavy sectors, Canada may face specific challenges in transitioning its economy and workforce to a lower-carbon future. But it also has the potential to lead, leverage emerging opportunities and export climate change solutions around the globe.
A new report by Mantle, entitled Transition Strategies – Preparing Canada for a Low-Carbon Future (the Transition Report), explores transition-related risks and opportunities Canadian companies face. The Transition Report was prepared for the Commonwealth Climate and Law Initiative (CCLI) and provides a deeper dive into risks arising from policy developments, legal liability, technological advancements, market shifts and reputational impacts. It also takes an introductory look at how climate change is impacting specific Canadian sectors—utilities, oil and gas, mining, financial services, agriculture, transportation, and forestry—and how leading companies in those sectors are implementing strategies to take advantage of transition trends. The Transition Report argues that Canada has the potential to be a leader in the transition to a low carbon economy and illuminates the unique and substantial economic opportunities available for the Canadian economy if climate change solutions are developed, leveraged and exported globally.
What does the transition mean for the world?
The Global Commission on the Economy and Climate1, considers the transition to a low carbon economy from a global perspective. While conversations related to climate impacts tend to focus heavily on risk, their 2018 New Climate Economy Report (NCE Report) devotes most of its pages to detailing the significant opportunities the transition presents. In fact, the NCE Report values this opportunity at $26 trillion (USD) and estimates that these direct economic benefits could be delivered as early as 2030. It further indicates that this is a conservative estimate. Select examples of how the transition could generate benefits include:
taking ambitious climate action could generate over 65 million new low carbon jobs by 2030, greater than the entire workforce of the UK
subsidy reform (i.e. removing government subsidies from carbon-based energy industries) and carbon pricing alone could generate an estimated $2.8 trillion (USD) per year, greater than the total current GDP of India
forest protection and sustainable agriculture together could account for over $2 trillion (USD) each year
The NCE Report emphasizes the key role the private sector will play in driving the transition to a lower carbon economy and spotlights some significant private sector developments to-date:
the TCFD recommendations have received commitments of support by more than 160 financial firms responsible for over $86 trillion (USD) in assets
in 2018, issuance of green bonds is projected to reach $250 billion (USD)
there has been widespread acceptance and adoption of the goals set out in the Paris Agreement, with over 450 companies across all major economic sectors committing to setting science-based emissions reduction targets in line with the Agreement
Importantly, the NCE report calls this our "use it or lose it" moment. That is, the policy and investment decisions taken globally over the next two to three years will set the course for worldwide infrastructure construction for the next decade and a half. These decisions have the potential to significantly impact the transition to a lower carbon economy and determine, positively or negatively, our climate future.
Concrete Movements Towards the Low Carbon Economy
Although newspaper headlines may focus on the potentially catastrophic consequences of climate change, the transition to a lower carbon economy is happening. The growth of renewable energy, emissions reductions regulations, life-cycle assessment and a myriad of other innovative initiatives are supporting this shift. The NCE Report emphasizes that this transition must be sped up, through collaboration by both the private and public sector. The Transition Report details how Canadian companies may be able to access some of the $26 trillion (USD) that will be unlocked by the ongoing economic paradigm shift, and, we hope, spurs further and more rapid movement on behalf of these Canadian corporations.
---
The Global Commission was established in 2013 by the governments of Colombia, Ethiopia, Indonesia, Norway, South Korea, Sweden, and the United Kingdom and operates as an independent body. The NCE Report was established to assist governments, businesses, and society at large address climate change while making well-informed decisions on how to foster economic development and greater prosperity. The authors of the NCE Report believe that global economic growth can be "strong, sustainable, balanced, and inclusive." And the NCE strives to set out a blueprint for moving towards this growth.